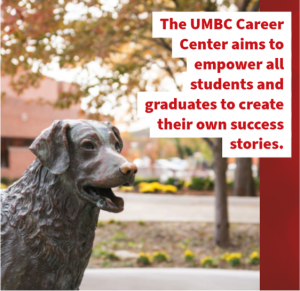 Welcome to UMBC! We're glad that you found this wonderful academic community, and we're looking forward to helping you identify and achieve your career goals. Whether you're living off-campus, coming from a different education background, returning to higher education, or pursuing an encore career, the UMBC Career Center can be a helpful resource as you plan your time at UMBC.
We offer individual career counseling, professional development workshops, opportunities to connect with employers for internships and jobs, fall and spring career fairs, and countless other events throughout the academic year.
Here are three simple ways that you can begin engaging with the Career Center today!
Create a UMBCworks account. This career management tool allows you to schedule appointments at the Career Center, view upcoming career development workshops and employer networking events, and houses our internship and jobs database which shows opportunities for all majors. Over 8,500 positions are posted each year looking for UMBC students like you!
Come to the Career Center for a resume review. You can come for a 15-minute drop-in appointment Monday through Friday from 2 – 4 p.m. and meet a Career Center staff member or peer to have your resume approved for use on UMBCworks. This is a great way to get familiar with the Career Center and learn about our other resources.
Explore our online resources. Our website has tools for exploring majors and careers, including three unique career assessments, our Career Guide, and countless other tools to build your professional documents, find resources for internship and job exploration, and view our calendar of events.
Looking for more specific resources?
Commuter Resources
If you're commuting to campus, it's important to make the most of your time when you're here!
Schedule appointments with career advisors ahead of time (we get busy!) to ensure that you can meet with someone within your hours on campus. You can schedule appointments to explore majors, discuss career assessments, review resumes, or build your interview skills!
If you're looking to spend more time on campus, check out on-campus and local employment opportunities on UMBCworks or at one of our Career Center events.
Subscribe to our myUMBC and social media accounts to get notifications about upcoming campus events and employers of interest. We're on Facebook, Twitter, Instagram, Pinterest, and post regularly to myUMBC.
Transfer Student Resources
Whether you have a career plan in mind or you're transferring to begin a specific major, we can assist you in clarifying and meeting your goals!
Meet with a career specialist to explore career pathways related to specific majors and make informed decisions about your next steps.
Secure internship experiences in your future professional field, and register for the Intern Success Practicum to elevate your professional development and to earn a transcript notation and potentially academic credit.
Build your new UMBC network by getting involved with organizations on campus and attending Career Center events like the Intern Success Conference or the Diversity Recruitment Event.
Veteran Resources
We recognize that veterans and military service members have unique collegiate experiences, and to assist your career development, we provide Students with Military Experience resources on the Career Center website. These steps can serve as a guide to connect your military experiences with your future career goals.
Adult Learner Resources
We want to make sure that you have access to the resources that you need to be successful whether this is your first degree or fifth! Our sources for Career Changers can assist you with setting tailored career goals and identifying unique opportunities for adult learners.
Questions? Thoughts? Concerns? Connect with your Career Center liaison!
Rachel Bachman is the OCSS/Career Center liaison, meaning that she's here to support you! As a Career Specialist at UMBC, she's met with many students, alumni, and community members who are at different phases in their career and professional development, and she can help to support you in connecting with Career Center resources.
How can I connect with Rachel Bachman?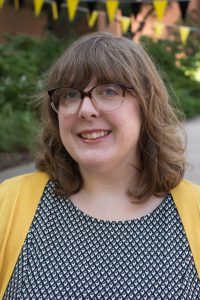 1. OCSS events throughout the year
2. Career Center events such as professional development workshops and the Fall and Spring Career Fair
3. Schedule an appointment to meet with her through UMBCworks or by calling her at 410-455-6525
4. Email her at rbachman@umbc.edu with any questions you might have!