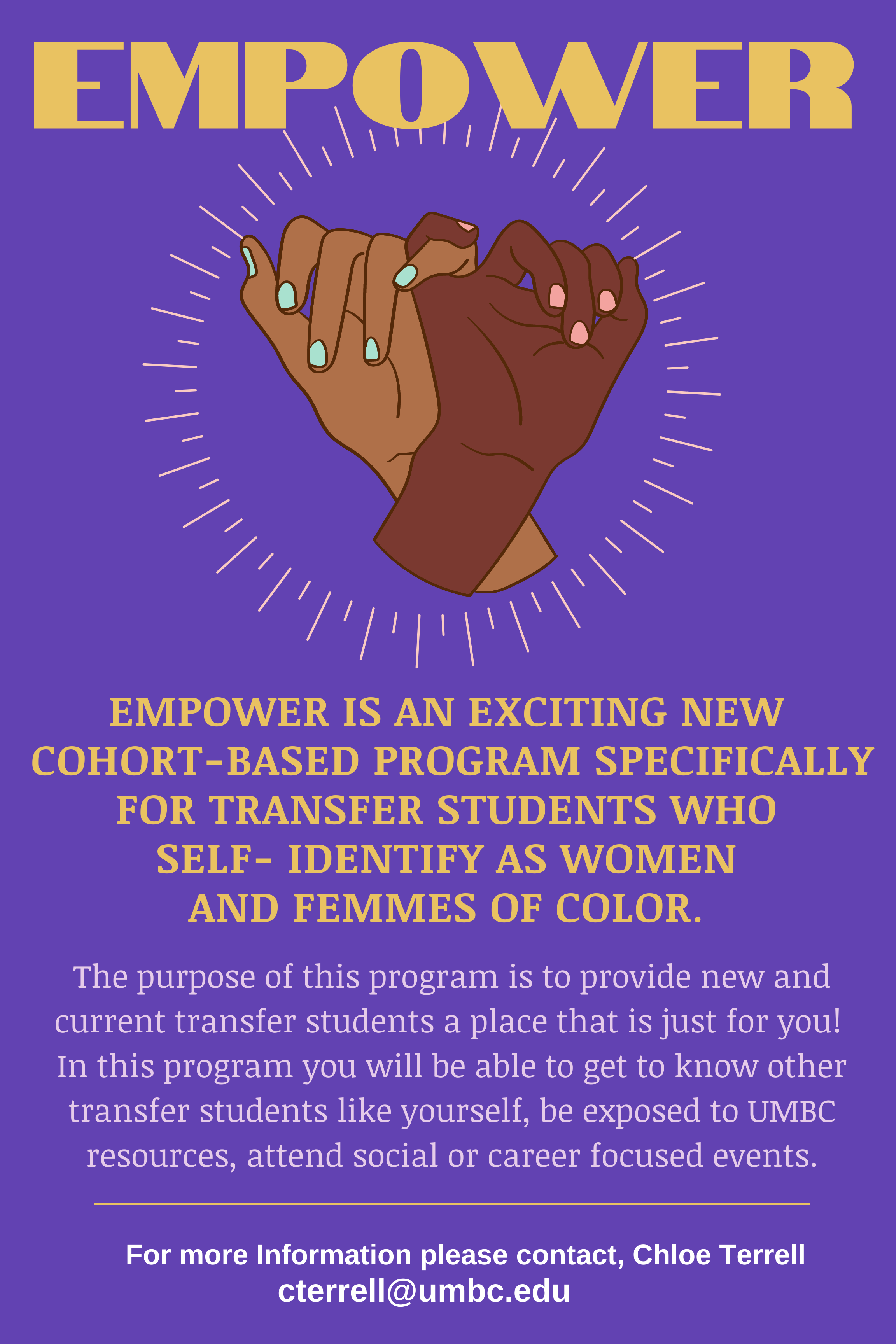 Meet the EMPOWER Advisors
Krista Wallace (She/Her)
kriswall@umbc.edu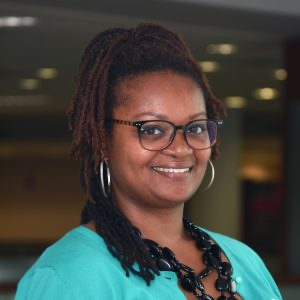 Hometown: Baltimore, MD
Ms. Krista Wallace joined the University of Maryland, Baltimore County (UMBC) in July 2019 as the Transfer Success Advisor for the Post-Transfer Pathways (PTP) Program in the College of Engineering and Information Technology (COEIT). In her current role of Assistant Director of Pre-Transfer Advising & Special programs she provides academic advising to prospective and current transfer students interested in pursuing computing and engineering majors at UMBC. Krista is passionate about working with transfer students, particularly from underrepresented populations. It is rewarding to help and be a resource for them as they navigate their educational journey through graduation.
Why EMPOWER? It's all about building community and connections! Transferring to a 4 year university can be a new and exciting and scary and just a myriad of other things. Creating a place just for transfer students and particularly women or femmes  of color is something that is needed at UMBC. I'm SO excited to be working our amazing staff and students on this program
Fun Facts: I'm an AVID Harry Potter fan and have read the books and seen the movies more times than I can count. I love all things arts & crafts and especially buying new arts & crafts materials, haha!
Chloe Terrell (She/Her)
Cterrell@umbc.edu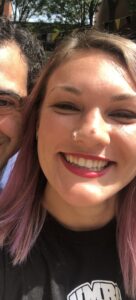 Hometown: Arlington, TX
 Hi! My name is Chloe Terrell, and I serve as the Transfer Student Success Coordinator in UMBC's Off-Campus Student Services department. I have the pleasure of connecting transfer students to campus resources, hosting social and academic events to get them involved on campus, and supervising our amazing Transfer Student Network Leaders (peer mentors). I've been at UMBC for 3 years and have loved every minute of it!
I am ecstatic to be a part of EMPOWER and help women of color find community and connection with their peers and UMBC. As a multiracial, white-presenting woman, I spend much of my time (and therapy appointments!) reflecting on my own identity and what it means to be Creole. I love hearing people's stories and learning about what makes them who they are. EMPOWER will be a safe space for women to share those stories, and I am excited to learn and grow with the sisters of this program.
When I'm not at work, you can find me hiking with my corgi, planning my next trip, or running with my run club around the streets of Baltimore!
Bri Gumbs (She/Her/Ella)
bgumbs@umbc.edu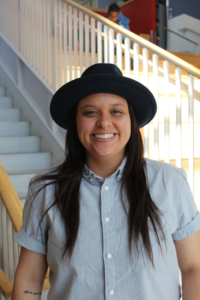 Hometown: San Diego, CA
Bri, identifies herself as an unapologetic queer, multi-racial Latinx, womxn. Born and raised in San Diego, CA Bri has devoted her work to being an educator, femtor and advocate for increasing and improving access, representation and retention for students with underrepresented identities in higher education by using an intersectional feminist framework. Bri hopes to empower others to speak their truth, mobilize and cultivate community care and joy in their various communities. Bri loves her two cats and her extensive hat collection! Bri expresses her truth through zine making, personal narratives, affirmations and through the various community programs she continues to create and facilitate. Bri holds a B.A in Psychology with a minor in Counseling and Social Change and a M.A in Student Affairs.
Ericka Thompson (She/Her)
egibbs@umbc.edu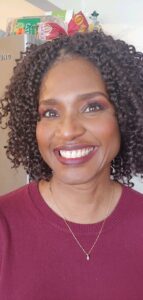 Hometown: Brooklyn, NY
 Hello. My name is Ericka Thompson and I'm a proud alum of UMBC.  I'm happily married to my college sweetheart and we have 2 sons together.  I'm excited to be a resource for transfer women of color. I currently serve as the Assistant Director for Allied Health Programs and I truly enjoy advising students.  I currently live in Baltimore but love to travel. I also love sports and food, especially Trini food. I look forward to getting to know you!
Grace De Oro (She/Her)
degrac1@umbc.edu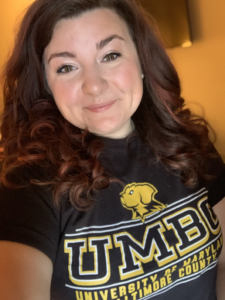 Hometown: Montgomery County
Hi, my name is Grace De Oro (she/her). I am currently a Ph.D. Student in Public Policy at UMBC and a Graduate Assistant serving the Adult Learner population at Off-Campus Student Services.
I grew up in Montgomery County and currently live on a small 5-acre farm in Western Howard County. As a first-generation college student and a Latinx woman, I am excited to help bring EMPOWER to life to support the next generation of women and femmes of color transfer students. I believe in shared knowledge and that our knowledge is power and shared wealth.