Commuter Connection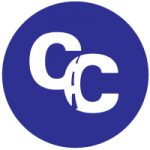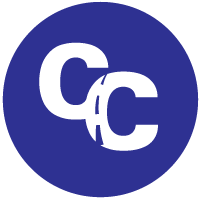 The main goal of the Commuter Connection program is to connect commuter students to the greater campus community. OCSS works to prevent commuter students from experiencing the age-old commuter tale of simply going to class and going home. With several events every semester, our Commuter Assistants organize fun, yet educational events where students can socialize with other commuters, connect with staff and faculty, as well as learn about on or off-campus resources.
For a full listing of Commuter Connection Events, visit the OCSS group page on myUMBC.
Good Morning Commuters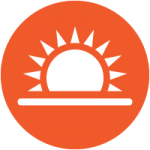 Every Tuesday Morning
8:30 AM – 10:00 AM
The Commons Main Street
A great way to start your day!
Swing by The Commons Main Street every Tuesday morning, from 8:30am to 10:00am, for some coffee and bagels. It's complimentary with your Commuter Gold Card. Here you can meet new people, express commuter concerns, and learn about the latest events and activities at UMBC.
The Commuter Gold Card entitles you to breakfast at Good Morning Commuters and these additional benefits:
Student Events Board – A swag bag will be given away at all Tuesday breakfasts
Gameroom – 1/2 price billiards and table tennis on Fridays from 12:00pm to 6:00pm
Flat Tuesdays – $1.75 smoothies on Fridays
University Health Services – $5 off a flu shot in September and October
Theatre Department – Free tickets for you and one guest to The Amish Project by Jessica Dickey on 11/18/16 (must email theatre@umbc.edu to reserve your tickets)
Music Department – Bring a friend for free to any performance in the Professional Concert Series
Dance Department – 1/2 off admission to the Fall Dance Showcase
Papa John's – Large one-topping pizza for $10
Subway – Buy one regular 6″ sub, chips, and a drink, get a 6″ sub for FREE (of equal or lesser value).  Add-ons extra.
Urban Bar-B-Que – 10% off your order.  Not valid with other coupons or specials.
Lucky 3 Salon – 10% off all services on Thursdays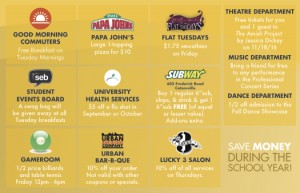 Co-Sponsor Good Morning Commuters! If you are interested in connecting with commuter students by co-sponsoring GMC, please contact Katie Weir at kweir@umbc.edu.
First Year Commuter Retreat
Happens once a year in August for brand new freshmen commuter students
Two great options to get connected and learn about UMBC

Have fun at the low ropes outdoor adventure
Get creative with a collaborative art project

Help commuter students feel more comfortable in taking part in Welcome Week.
Test your leadership and team building skills
Form lasting bonds and friendships
All equipment, meals, supplies, and transportation provided.
Physical demands are low impact to moderate — no experience necessary!
The Commuter Retreat is designed to support you and your transition from high school to the UMBC Community. At UMBC, we value relationships, connecting with others and building community. This is a special opportunity for you to ignite your own creativity and leadership, while forming lasting friendships.
The retreat is an all day event from 9am-5pm with free food and transportation. Students who have participated have said things like:
"I met my best friend at the Commuter Retreat — I'm so glad I attended!"
"It was a great opportunity to meet new students and feel connected."
"After attending this retreat, I feel like a part of the UMBC community."
All first year off-campus and commuting students are invited to attend. Reservations and sign-up begins in June. The last day register is in August. Should students fail to cancel their reservation for this event by the designated date, OCSS reserves the right to attach a $50 fee to UMBC student account to cover the financial costs incurred.
Schedule

| | |
| --- | --- |
| 10:00am | Check-In at the The University Center, 3rd Floor |
| 10:30am | Welcome Activities |
| 11:30am | Lunch |
| 12:00pm-5:00pm | Above & Beyond Low Ropes course OR |
| 12:00pm-5:00pm | Team Challenge Cup at UMBC |
| 5:00pm | Wrap-up activity at UMBC |
| 5:30pm | Dinner at True Grit's Dining Hall (optional) |
Sponsored by OCSS and the Division of Student Affairs.