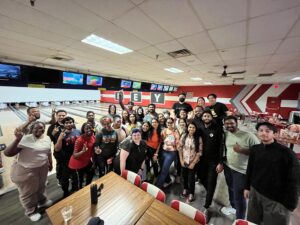 Mission of T.E.A.M.:
The Transfer Engagement and Achievement Mentoring (T.E.A.M.) program is open to people of all backgrounds who are dedicated to increasing the persistence and retention of Black Male transfer students at UMBC through a renewed sense of self and the development and utilization of leadership skills that will lead to personal and academic achievement.
T.E.A.M.'s Three Prong Model:
TEAM utilizes a three prong enrichment model to carry out its mission.
We must first enrich and empower our members, increasing their sense of self awareness and confidence.
We will then empower them to become leaders inside and outside of the classroom.
The final stage of this model is teaching them to utilize their leadership skills to empower others.
This enrichment model is supported through workshops, lectures, trips, and activities geared towards education, self empowerment, conflict resolution, cultural awareness and community service, just to name a few.
You can find a more in-depth overview of T.E.A.M. here
If you are interested in joining the T.E.A.M. or have any questions, please contact us. If you would like to stay updated around upcoming T.E.A.M. events and happenings, please join our myUMBC Group.
Complete the T.E.A.M. Contact Form to Connect with Us!