The state and local governments have laws and codes that protect the neighborhood and the tenants from unsafe conditions. All rental units should be licensed with the county as rental units.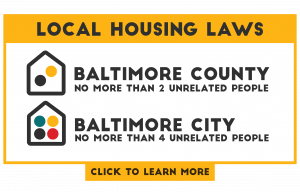 One of the most commons questions about housing laws in Baltimore is surrounding how many people can rent a single unit. In Baltimore County: No more than (2) two unrelated persons can live together in a single-family dwelling. In Baltimore City: No more than (4) four unrelated persons can live together in a single-family dwelling.
Not adhering to this law can potentially jeopardize your off-campus housing, which in turn could have a negative effect on your overall well-being.
For more information on the different housing codes and when they apply, including public nuisance, noise complaints, and more, check out the Baltimore County code enforcement frequently asked questions page.
Here is a more user-friendly and detailed pamphlet from Baltimore County on landlord and tenant issues.
Use this quick inspection sheet for a single-family dwelling that is intended as a rental unit in Baltimore County.
Maryland State Law
List of important Laws to know:
8-208: Security Deposits and Surety Bonds
8-203.1: Security deposit receipt
8-204: Right of tenant to possession at beginning of lease
8-205: Requirement
8-208:Automatic Renewal provisions
8-208.1: Retaliatory evictions
8-208.2 Retaliatory actions for informing landlord of lead poisoning hazards
8-211-212: Repair of dangerous defects; rent escrow
8-212.1: Liability of military personnel receiving certain orders
8-213: Applications for leases; deposits
8-401-403: Eviction
Look up Maryland laws on their site.