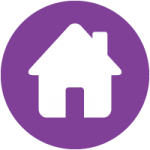 Need help locating off-campus housing? Looking for a roommate with similar lifestyle habits? Let Off-Campus Student Services support you in your off-campus transitions. OCSS provides a housing listing service and roommate finder at no charge for the UMBC campus community. If you have transportation needs, many local apartments and housing complexes have been matched with UMBC Transit's shuttle lines for your convenience. Let us help you with information about signing leases, creating productive landlord/tenant relationships, and other technical topics such as local housing policies.
Off-Campus Student Housing Concern Form
Click here to view off-campus housing listings or to list your own!